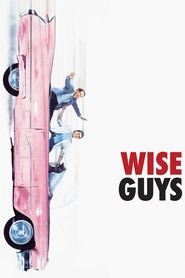 Wise Guys (1986)
Synopsis:
Wise Guys 123Movies
:
Harry Valentini and Moe Dickstein are both errand boys for the Mob. When they lose $250,000, they are set up to kill each other. But they run off to Atlantic City and comedy follows.
Movie Name: Wise Guys
Rated: R
Director: Brian De Palma
Stars: Dan Hedaya, Danny DeVito, Harvey Keitel, Joe Piscopo, Julie Bovasso, Louis Albano, Ray Sharkey
Release Date: 1986-04-17
Tagline: What kind of guys gamble with the boss's money, swipe a killer's Cadillac, and party on the mob's credit card?
Release Year: 1986
Country: United States
Runtime: 100 min
IMDB Rating: 5.6/10
User Votes: 5,794
TMDB Rating: 5.5/10
Visits: 47
Wise Guys Full Movie Gallery