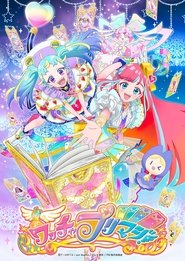 Waccha Primagi!
Waccha Primagi! Watch Online
:
Middle-school first-year student Hibino Matsuri loves festivals, and she dreams of one day being able to star in "PriMagi", a magic-like form of stage entertainment borne from song, dance and fashion. That day arrives when the hyper-spirited, trouble-making magician Myamu arrives from the magical realm and scouts Matsuri for PriMagi. Together, the two compete with rivals to rise to the top of PriMagi.
TV-Show: Waccha Primagi!
First Air date: 2021-10-03
Genre: Comedy
Actors: Anna Suzuki, Aya Uchida, Chinatsu Hirose, Konomi Kohara, Mayu Sagara, Rie Hikisaka, Riko Koike, Saho Aono, Sunao Yoshikawa, Umeka Shouji, Yui Ogura
Studio: Dongwoo A&E, Tatsunoko Production
TV Status: Returning Series
Visits: 561
Release Year: 2021
Duration: 25 min
Networks: AT-X, Sendai Television Incorporated, TV TOKYO
Quality: HD