Supernatural Season 5 Episode 10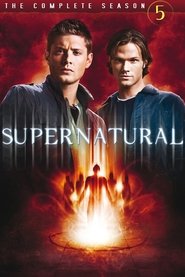 Supernatural Season 5 Episode 10
Synopsis:
Supernatural Season 5 Episode 10 Full Episode
:
Sam, Dean and Castiel track down the Colt and head off to find Lucifer to send him back to Hell. It's a hunters' reunion when the crew joins forces with Bobby, Ellen and Jo for what could be their last night on Earth.
TV-Show: Supernatural
Director: Philip Sgriccia
Cast: Alona Tal, Darryl Scheelar, Dawn Chubai, Jim Beaver, L. Harvey Gold, Mark Pellegrino, Mark Sheppard, Rachel Miner, Samantha Ferris
Visits: 1049
Tv-Series/Episode: s05e10 Supernatural S5E10
Episode Title: Abandon All Hope...
Air Date: 2009-11-19
Release Year: 2009
Quality: HD
Supernatural S5E10 Gallery